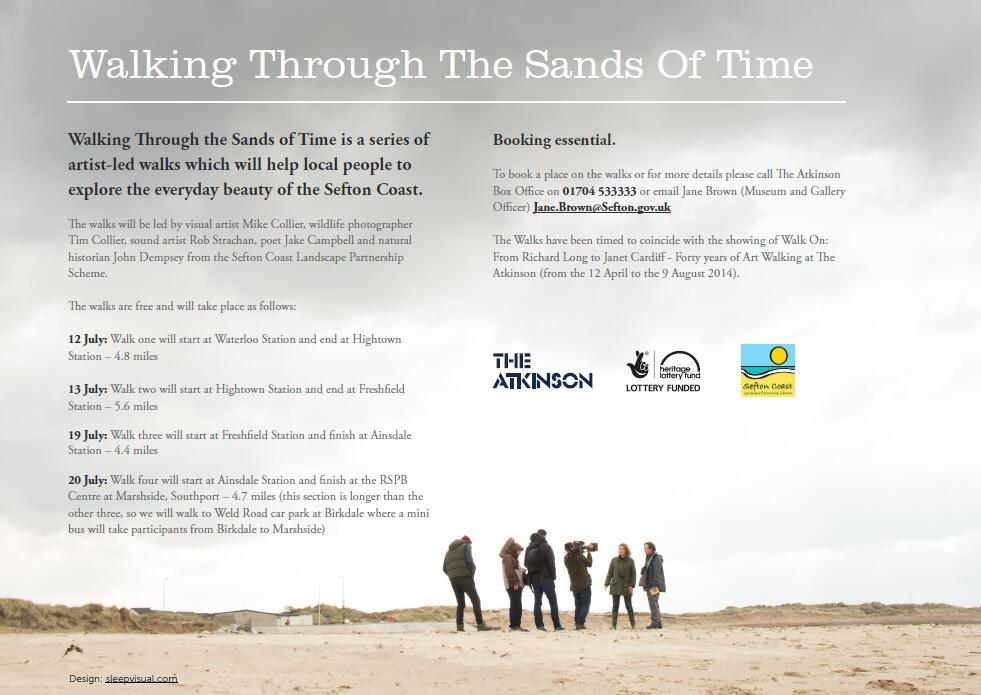 Over two weekends in July – the 12th and 13th and 19th and 20th – I will be taking part in WalkingThrough the Sands of Time, a series of artist-led walks that will help people to explore the natural beauty of the Sefton coastline, following a path of just shy of 20 miles from Waterloo, Merseyside, to the RSPB centre in Marshside, Southport.
There are still places available to join the walks, where participants will be encouraged to contribute to the resulting artworks, offering their thoughts and feelings on the route and its landscapes and what they come across. As well as being welcome to take part in the physicality of the walks, there will be opportunities to be guided in photography, sound artistry and writing about place under the tutorship of myself and the other artists and guides: Mike and Tim Collier, Rob Strachan and the local expertise of natural historian, John Dempsey.
As I take part in these walks, I will update accordingly with any writings and pictures, eventually bringing into life some new work about the area. As I've never been to the area, I can't really add anything else yet, so stay tuned for my first foray into Sefton and its sands. As a Sanddancer, I'm sure I'm going to be in my element!
To book places on the walks, or for more information, please phone The Atkinson on: 01704 533333.